In early 1991, WFYR-FM (103.5), an adult contemporary station in Chicago for many years (also under an AC Oldies format) was sold by it's parent company Summit Communications to Major Broadcasting of Chicago for $19 million. Major, a newer company had success with a high-energy hard rock format in Denver at KBER-FM. On March 29th, the sounds of Whitney, Rod and Elton gave way to 44 hours of "Rock Rock ('til you drop)" by Def Leppard. Then, at noon on April 1st, the station "snuffed the fire and stoked The Blaze!" But this was no April Fool's joke. The Blaze had come to Chicago, featuring acts such as Skid Row, Billy Squier, Ratt, Ozzy Osbourne, Slaughter and other hard rock and psuedo-metal bands. The initial on-air staff consisted of Steven Craig (mornings), Steve Seaver middays, former "Fire" morning guy Brian Kelly in afternoons, music director Kevin Lewis and Leslie Harris at night, as well as several WFYR holders and some new folks including Jimmy Novak, "Major Tom" Johnson, Chris Ryder, Brad Jeffries, Steph Ludwig and myself - Scott Childers.
A Blaze ad spelling out what you'd hear and what you wouldn't; Robert Feder previews the "new" 103.5.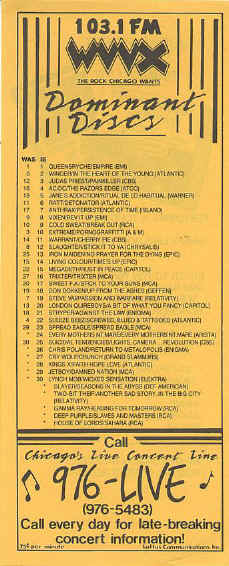 The WVVX "Dominant Discs" survey.
As WWBZ pumped out The Best of Rock, not everyone was happy about it - especially Scott Loftus and the folks who built up a loyal following at north suburban WVVX-FM (103.1) in Highland Park (once known as "The Eighties Channel," now La Kalle 103.1). The show "Real Precious Metal, or RPM as it was known, was a heavy metal show that aired nightly, and featured some of the less commercial and harder edged acts, as well as some local bands. The staff quickly dismissed The Blaze as "poser rock." However, with a strong signal, fantastic audio processing and plenty of street-buzz, The Blaze quickly took off. The station could be heard blaring out of cars everywhere in the summer of 1991, despite no billboard or television advertising...all on word-of-mouth. After about a week on the air, The Blaze apparently prompted the Chicago concert promoter Jam Productions to withdraw its sponsorship of the nightly heavy-metal music show on the north suburban station, which it had sponsored for six years. The RPM show lasted a while longer at 103.1, and briefly aired on WYSY-AM/FM "Y-108" in Aurora in 1993.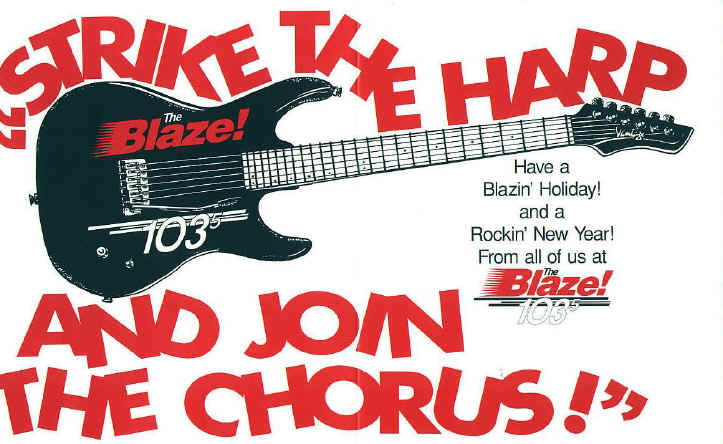 Blaze keychain (above) and Christmas card from 1991.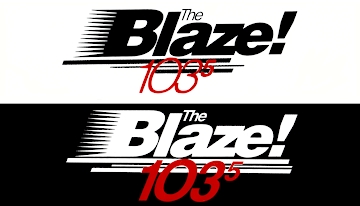 The black (and the scarce white) bumperstickers.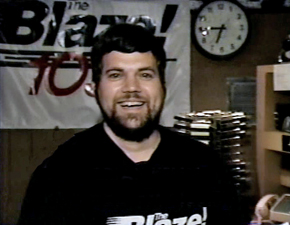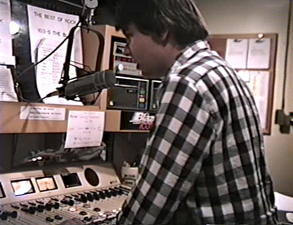 Brian Kelly (left) and Scott Childers on the air in The Blaze Studio C.
In addition to the Blaze jocks, helicopter reporter Major Tom was a hit with listeners with his irreverent morning and afternoon traffic updates. "...It's a time-sucking abyss on the Ike...your blowin' chunks southbound Tri-State into the 82nd Street toll bucket! Major Tom, back to ground control with Whitesnake - on 103-5 the Blaze!" Tom also buzzed a Jonathan Brandmeier remote in Lincoln Park which was live on 97.9 The Loop. When Johnny B figured out what was going on, he quickly went to a commercial, after his audience began to loudly chant "The Blaze, The Blaze.." 1992 brought Blazefest, a rock memorabilia show and concert at the Odeum Expo Center in Villa Park. Crowds rapidly outpaced expectations and ticket holders saw Saigon Kick and headliners Warrant.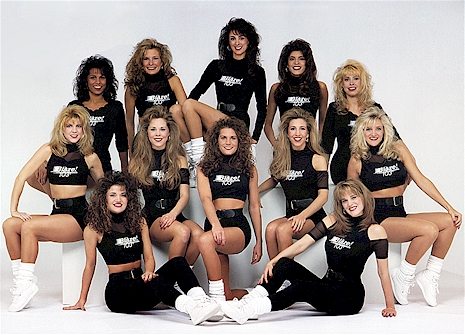 The Blaze Girls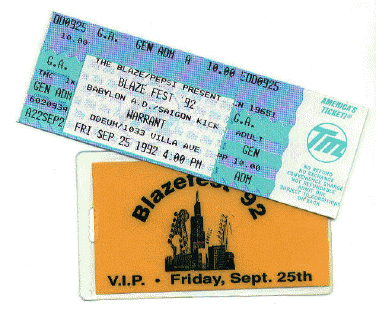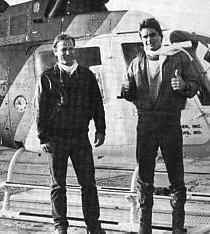 Blazefest '92 at The Odeum. Chopper pilot Russell Franks and traffic reporter Major Tom Johnson.
By 1994, Major sold the station to Evergreen Media, parent company of WLUP-FM (97.9) and WMVP-AM (1000). Glam rock had started to run it's course and Major made a tidy sum on the sale. They divested into television by producing "The Mort Downey Show," as well as syndicated radio formats. While Evergreen kept the Blaze format through the spring, it eventually gave way to active rock WRCX, "Rock 103 5," featuring a commercial free "A-Z" kickoff around July 4th. Soon, Mancow Muller debuted in mornings at "The Rock." When WRCX ended it's run in 1998, the station became Jammin' Oldies and most recently became "Kiss-FM 103.5."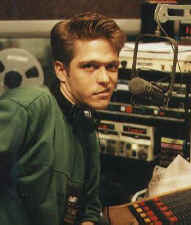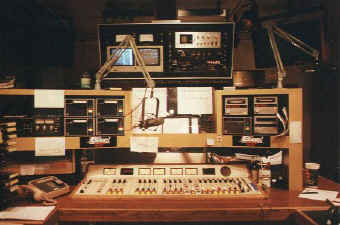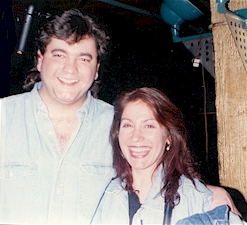 (L-R) Afternoon and then morning jock Jimmy Novak, Blaze air studio on the 23rd floor in the Prudential Building, Steve Seaver and Leslie Harris.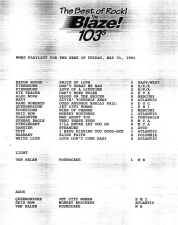 A 103.5 The Blaze playlist from 1991.
2011 marks the 20th Anniversary of the debut of The Blaze. Despite all the years, many Chicago radio listeners still look back fondly at the sounds that literally poured out of their radios, beginning in April 1991. I often am still asked about The Blaze and its impact on music and local radio. In fact, I snapped this picture in the spring of 2011 of a vehicle tooling around the western suburbs with a Blaze sticker still prominently affixed on the bumper!