Hard to believe that I have made it to twenty-five years behind the microphone! It all started at midnight on Sunday November 12th on the second floor of the McKeon Law Building in a small studio at WJTW-FM (93.5), Joliet's purveyor of lite hits.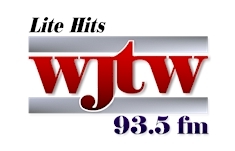 I proceeded to botch the reading of the legal ID, going from "Turn Your Love Around" by George Benson into the ethereal "Orinoco Flow" by Enya. I not only said my name wrong, but also gave an incorrect time check. Despite some nervous moments, things got better and somehow I find myself 25 years down the line (and an estimated 8000 shows later) still at it, now at the helm of Star 96-7 (as program director and afternoon host), also based out of the southwest suburbs. Star 96.7 has a lineage back to 93-5 'JTW through numerous ownership and format changes.
Over the years (and you can see where I have been here) I have been lucky enough to work all of them right here in Chicagoland, a big feat in itself. Many in the business never make it back to Chicago, so for that I am very fortunate.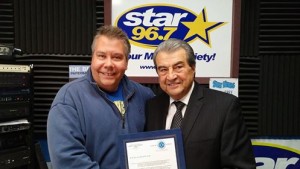 Scott with Joliet Mayor Tom Giarrante
Thank you to my first boss and mentor, Jim Murphy for making the day special. He stopped by while I was on the air and brought, not only Joliet Mayor Tom Giarrante (who presented me with a humorous, yet humbling proclamation), but also a commemorative plunger, signifying "25 Years Down The Drain." He also presented me with a hat full of "fireman's balls," a reference to an early attempt at on-air comedy, that went astray (and almost cost me my job).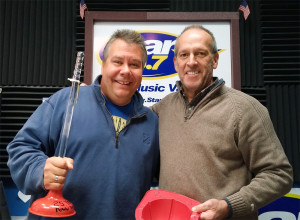 Scott with Jim Murphy, the plunger and "fireman's balls."

It was a wonderful moment that I will never forget and I appreciate the gifts. But more-so, I appreciate all that have listened to my various shows, reports, bits, updates, commercials and foolishness that I have been providing for the past quarter-century. It's the listeners who have made it all worthwhile.  They say if you love what you do, you'll never work a day in your life. That's exactly how I feel!